Capital Project
Diversity Plaza was originally implemented as the result of a neighborhood-wide transportation study. Diversity's implementation simplified a complex intersection and eased access to the 74th Street-Roosevelt Avenue train station. Initially implemented in interim materials, the pedestrian plaza was later built out with permanent materials and fixtures, further enhancing its pedestrian safety benefits.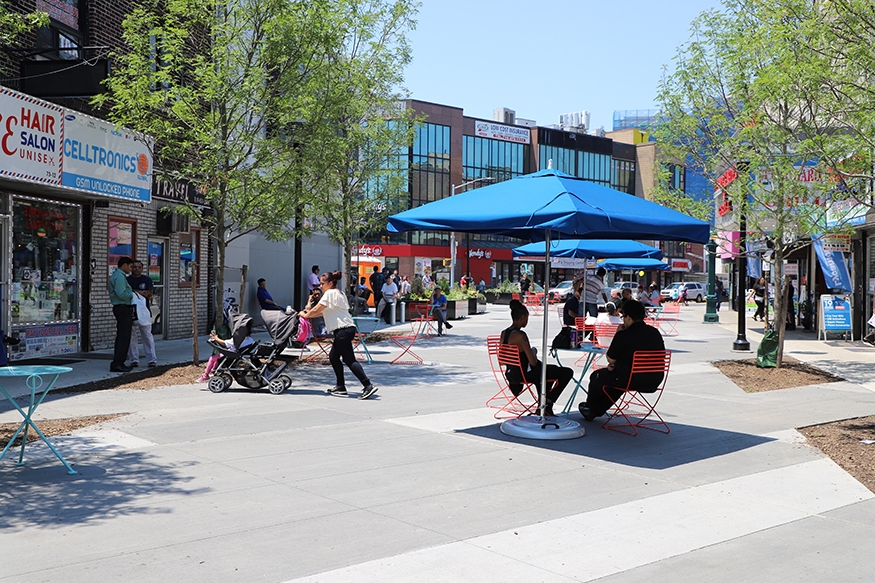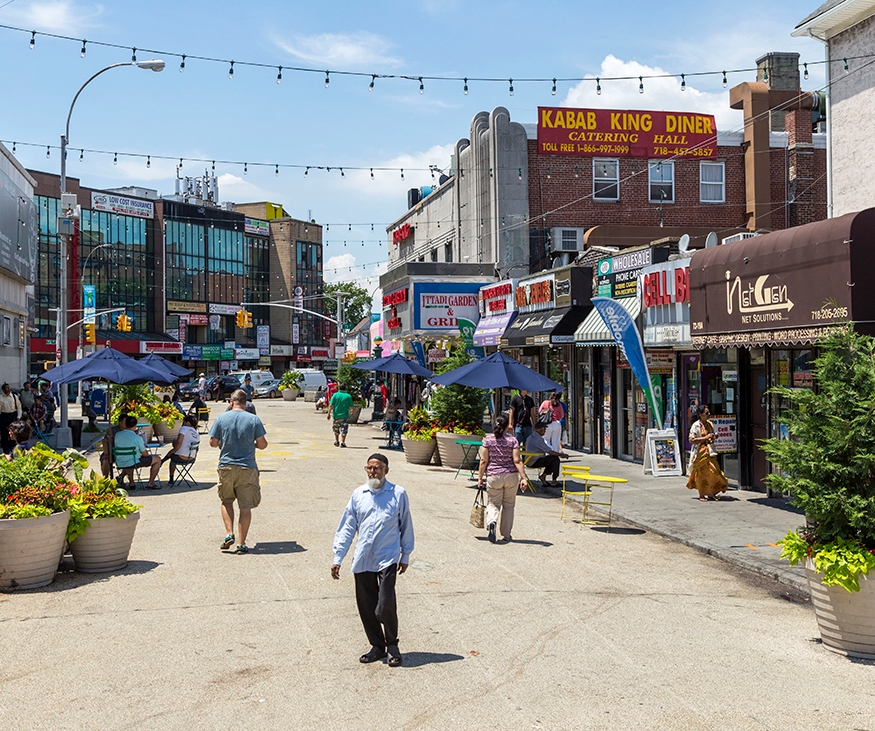 Purpose
Enhance pedestrian safety
Provide more open space and amenities
Location
The plaza is located on 37th Road between Broadway and 74th Street and on 73rd Street between Broadway and Roosevelt Avenue in a dense commercial district in Jackson Heights, Queens.
Context
The surrounding area is characterized primarily by high-density, street-level retail as well as other commercial and residential uses
Low-rise buildings house mostly small retail businesses and offices on both sides of Diversity Plaza, while the north side of the plaza features an entrance to the 74th Street-Roosevelt Avenue elevated subway station
Multiple bus lines, including the Q70 SBS to LaGuardia Airport, serve the area immediately adjacent to the plaza
Project Origination
In 2011 DOT completed a transportation study that, among other things, included a recommendation for the closure of 37th Road to vehicular traffic as a means to make a safer intersection at 73rd Street and Broadway and to accommodate community requests for more open space
DOT created an interim plaza at this location in fall 2012
Diversity Plaza eventually became a Capital project and was reconstructed in permanent materials, opening again to the public in the summer of 2018
Planning and Design
Before and after creating the interim plaza, DOT conducted extensive community outreach and technical analyses, including an Environmental Assessment Study (EAS). This work included a study of the impacts of the closure on traffic operations, pedestrian volumes, and deliveries
Scoping for the permanent plaza was completed and transmitted to DDC in May 2013
DOT engaged local stakeholders throughout the design process through public workshops and coordination with local elected officials
Durable permanent materials were employed to reduce maintenance needs
Large above-ground planters allow for robust plantings while enhancing pedestrian safety
The layout of the space, with moveable tables and chairs, prioritizes flexibility to allow for easy circulation and promote a wide variety of community events
Implementation
Capital construction began in spring 2017 and was completed in summer 2018
Results
Administered by DOT along with community partners SUKHI NY and The Friends of Diversity Plaza, the pedestrian plaza provides public seating, landscaping, and ample opportunity for community-based events all year round
Daily maintenance, seasonal plantings, and other services are provided by the Horticultural Society of New York through a contract with DOT as part of the OneNYC Plaza Equity Program